Hungarian Theater wins main prize at prestigious Polish festival!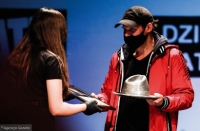 The Maladype Theatre of Budapest won both the main prize and two other awards at the 14th International Gombrowicz Festival in the central Polish town of Radom, daily Magyar Nemzet reports.

The festival is named after Polish writer and playwright Witold Gombrowicz (1904-1969), candidate of the 1966 Nobel Prize in Literature. The Maladype Theatre ran with his opera Yvonne, Princess of Burgundy, whose libretto Gombrowicz wrote. The play, set in the royal court of an imaginary country is a moral criticism of contemporary Polish society. Directed by Zoltán Balázs, the play premiered this January in Budapest.
The international festival's main goal is to showcase the plays of Gombrowicz and the main sponsor is Rita Gombrowicz, the widow of the author.

In additional to the main prize of the festival, the Maladype Theatre also won the audience prize and that of the best theater company.

The Maladype theater was originally established in Budapest in 2001 as a Roma theater — its name means "meetings" in the lovari language of the Hungarian and western Slavic Roma — has since outgrown its niche and has become a mainstream independent theater, with its performances having received eight national and international prizes.

"It is a great honor to perform in the country of Witold Gombrowicz, whose works have inspired so many theaters around the world," theatrical director Zoltán Balázs told Hungarian news agency MTI at the closing gala of the festival.