Guest performances at the 10th Theatre Olympics - organized by Maladype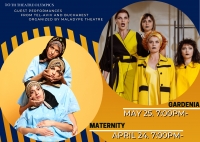 Since its establishment, the Maladype Theater has considered it extremely important to introduce its audience to modern world theater endeavors and the exceptional works of new creative generations. In 2011, we therefore launched our program series called Crossroads.
The goal of the cross-continental project is to present extraordinary creative workshops and theater art trends in Hungary that strengthen cultural innovation, linguistic diversity, and the building of organic relationships between creators and audiences in our theater culture. The cooperation network bringing together theaters representing unusual artistic visions offers the domestic audience a platform for dialogues that can be realized in a variety of ways.
In the spirit of this concept, Maladype joined the program of the international festival of the 10th Theater Olympics. The event, which will take place for the tenth time between 1st of April and 1st of July 2023, was founded in Greece in 1995 by renowned directors and playwrights, including Theodoros Terzopoulos, Robert Wilson, Jurij Ljubimov, Heiner Müller. One of the founders, the Japanese director Suzuki Tadashi, has this to say about the beginnings: "In the midst of political uncertainty, people became wounded and lost hope. The artists were visibly depressed by their inability to do anything in this situation. In such circumstances, T. Terzopoulos believed that we, artists, must unite and create with a love that transcends national boundaries."
Organized by Maladype, the world theater event will feature two guest performances in Budapest: on the 24th of April, the Frechot Ensemble in Tel Aviv's performance entitled Maternity and on the 25th of May, the production of Gardenia by Bucharest based Odeon Theater. Both performances reveal the complicated connections between women's destinies, generational mazes and social problems in the interpretation of self-identified actresses. The characters of Maternity search for their lost children, the women of Gardenia struggle with their family heritage and identity.
Frechot Ensemble (Israel)
MATERNITY
"What would you do if your child were suddenly taken from you forever?"
Based on poems of Iris Eliya Cohen
in English, with Hungarian subtitles
English translation: Natalie Fainstein




Director: Hana Vazana-Grunwald


Played by:
Selly Arkadash,
Moria Beshari Lipshitz
Eden Uliel


Archive texts, playwright: Racheli Said
Set and costume designer: Frida Shoham
Choreographer: Shira Eviatar
Lighting designer: Nadav Barnea
Music: Avigail Arad
Music director: Naama Perel-Tzadok
Assistant costume designer: Noa Bendahan
Art consultant: Avi Gibson Barel
Assistant director: Noa Ben-Ari
Production manager: Avital Michel-Meyer


Premiere: 2017, Jaffa Theatre, Tel Aviv-Jaffa
Duration of the performance: 60 minutes
Recommended for audiences over 16!


Place and time: Bethlen Téri Theater, Budapest
24/04/2023, 7:00 p.m


Organized by Maladype Theatre


The contemporary Israeli work Maternity deals with the fate of children who have disappeared and are still in unknown places and the mothers who search for them. After the establishment of the State of Israel and later in the 1950s, thousands of babies disappeared from newly immigrated families placed in refugee camps. Two-thirds of the parents of the missing children immigrated to Israel from Yemen. The performance "Maternity" presents the long-term ordeal of the parents of kidnapped children, as well as the connections between their tragedy and the fate of today's women and mothers. "Phenomenal and striking performances shape this documentary theater into a deep artistic experience." (Rutie Stern, Haokets, Israeli magazine)

Three actresses (who are also mothers in real life) present on stage the painful process of giving birth and how nothing is left for them afterwards. No baby. There is no one they can hug one more time, for the last time, there is no crying life next to them.

Three brave women - Selly Arkadash, Moria Beshari Lipshitz and Eden Uliel - use poetry, sounds and movements to reveal their feelings and uncover the background of the obscure case. The performance was partly based on Iris Eliya Cohen's poem and partly based on authentic materials, testimonies of women, mothers and their grandchildren. Some testimonies were found in the Israel State Archives. Other confessions have personal implications. One actress, for example, heard the story from her own grandmother and father.

Founded by Hana Vazana-Grunwald and operating for ten years, the Frechot Ensemble is an all-female troupe whose members pursue their craft with passion. Their performances focus primarily on the world of ordinary people. Their chosen topics hold up a mirror to society, examine the dynamics of power, and give significance to seemingly insignificant moments. At the heart of their work is the search for a theatrical language that can adequately express the essence of various identities: "Mizrahi identity" (Middle Eastern Jews), gender identity, feminism, social situation, ethnicity.




Odeon Theater (Bucharest, Romania)
Gardenia
Written by Elżbieta Chowaniec
in Romanian, with Hungarian and English subtitles



Director: Zoltán Balázs


Cast:

Woman I. - Antoaneta Zaharia
Woman II. - Paula Niculita
Woman III. - Simona Popescu,
Female IV. - Mădălina Ciotea


Set designer: Constantin Ciubotariu
Costume designer: Andrada Chiriac


Premiere: May 31, 2018, Bucharest, Odeon Theater
Duration of the performance: 75 minutes
Recommended for audiences over 12!


Place and time: Pesti Theatre, Budapest
05/25/2023, 7:00 p.m


Organized by Maladype Theatre
The characters of Elżbieta Chowaniecz's play are anonymous women, whom the author designates only with numbers.
Gardenia
is a partial family history: the drama of four generations of Polish women - the oldest was born in 1920, her daughter in 1942, her daughter in 1962, and the youngest in 1982. As they go through almost the entire history of the twentieth century in peace and war, wealth and poverty, their complicated and simple relationships between mother and daughter, grandmother and granddaughter, great-grandmother and great-granddaughter are also revealed.
Gardenia
is a dramatic study of a transgenerational model set in a predominantly female universe: the phantom wounds from the family past that we carry embedded in our DNA and that influence our destiny. The point of view here is not related to guilt or responsibility, but to the fact that it is impossible to remove the behavior patterns typical of our family. How do inherited tendencies and learned behavior patterns influence their behavior? Can we become independent from our current social circumstances? Can we remove ourselves from the constraints of family traditions? Elzbieta Chowaniec's highly successful contemporary drama seeks answers to these questions, among others.
The performance was created within the framework of the FabulaMundi Playwright Europe project, co-financed by the European Union's Creative Europe program (2017-2020).
Tour:
BITEI International Theater Festival, Chisinau, Moldova - 2023
International Festival of Young Audiences, Iași, Romania - 2022
SIBFEST International Theater Festival, Sibiu, Romania - 2019
Elvira Godeanu Theater Festival, Târgu Jiu, Romania - 2019
Journées Théåtrales de Carthage Tunis, Tunisia - 2018
International Theater Festival, Ploiești, Romania - 2018
FEST(in) pe Bulevard, Bucharest, Romania - 2018
FNT National Theater Festival, Bucharest, Romania - 2018
FITO International Theater Festival, Oradea, Romania – 2018
Prizes:
Best performance award - Elvira Godeanu Theater Festival, Târgu Jiu, Romania - 2019
Best Set Award (Constantin Ciubotariu) - FEST(in) pe Bulevard, Bucharest, Romania - 2018
Best Set and Costume Award (Constantin Ciubotariu, Andrada Chiriac) - FITO International Theater Festival, Oradea, Romania - 2018
Best director's award (Zoltán Balázs) - FITO International Theater Festival, Oradea, Romania - 2018
Press coverage:
"In terms of the director's concept, Gardenia is an osmosis of art forms through a captivating performance, balanced acting and representation." - Nicolae Havriliuc, Teatrul Azi"What the Hungarian director, Zoltán Balázs, and the four dazzling actresses managed to achieve, can be compared to an intensive theater course. Seeing this piece, it becomes clear what it means to have a director's vision and the director in question has a good command of the tools of his trade, is able to find the formula, concept, and structure with which he can build a relationship with his audience with surgical precision." - Razvana Niţă, Acta este fabula"This excellent performance will not leave you indifferent. The four excellent actresses are used to great effect by the director, who fully undertook the process of breaking the trauma into pieces in this work." - BookHub"This is not an ordinary production, but a performance that proves that it is possible to do theater in a different way than what we usually see on Bucharest stages." - Claudiu Sfirschi-Lăudat, B-Critic"The show is fascinating and worth watching more than once." - Natalia Turcan, Teatrul Geneza
Ticket information: Tickets can be purchased at the ticket office of the Pesti Theatre and online at vigszinhaz.jegy.hu.
Pesti Theatre - ticket office
1052 Váci Street 9.
Phone: 266-55-57
Free toll-free number: 06 80 204 443