Out-Let
Writer: Ágota Szilágyi and Erika Tankó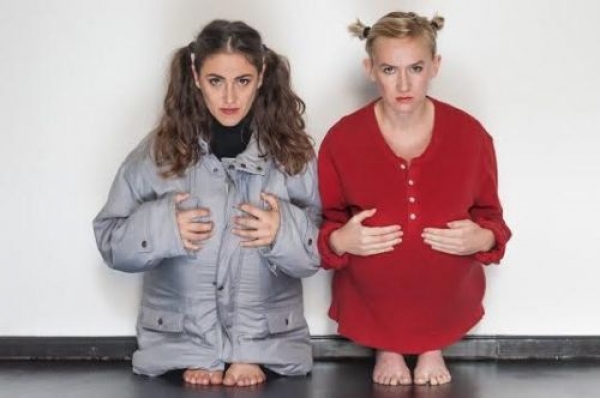 PERFORMANCE BY ÁGOTA SZILÁGYI AND ERIKA TANKÓ


Motto:
"It makes a difference where you start from. They say that you always have a choice. I did not."
From the performers:
"Outlet… Transilluminating memories, putting that past in its place, making the present transparent and permeable, taking ourselves home into our own depths. We believe that there is a point, a gateway between dreaming and being awake where we encounter our most primary energies…. It is a strange abyssal state, a world under the bodies of water where our most precious thoughts and feelings subside – layer by layer, one dream after the other. We attempt to unravel these layers and draw them up in images: it is but setting up a 'personal coding system' in which the expeditionary task of 'decoding' through associations falls onto the audience. Csango-geisha, psychedelic love, pom-pom-pioneer."
In their autobiographically inspired performance, the two actresses, who both graduated from the University of Arts Târgu-Mureş and often played together at the Csiky Gergely Hungarian State Theatre Timișoara, embark on a journey through their thoughts to find a confirmation and to explore their roots, womanhood, and the creative power of words. Their paths – at times separate, at other times intertwining – do not only examine their own selves but also the environment evolving with and around them.
The multi-art performance (including text, movement, video projection, music, and singing) is a unique visual spectacle as a whole; the costumes matching Ágota Szilágyi and Erika Tankó's 'abyssal existence' bear a one-of-a-kind light design with LED technology by Attila Szőllősy.
Performers: Ágota Szilágyi, Erika Tankó
Light design: Attila Szőllősy
Video projection: Mona Birkás
Production manager: Katalin Balázs
Opening night: 21 November 2015, Maladype Base
Tour:
Valley of Arts, Taliándörögd - 2016
Kosztolányi Dezső Theatre, Subotica, Serbia- 2016
Bánsági Magyar Napok, Timisoara, Romania - 2016
REÖK - Regional Art Center, Szeged - 2016
Hungarian Cultural Center, Bucharest, Romania - 2016